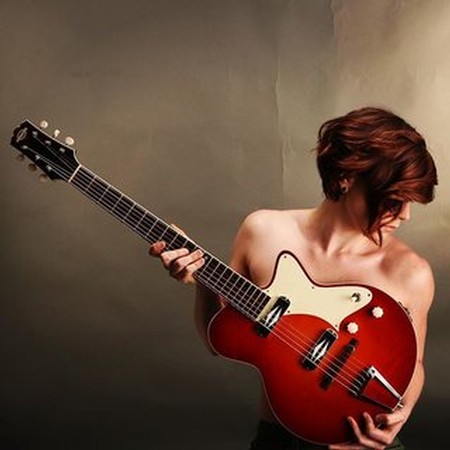 ARIANA GILLIS
Hailing from just outside Toronto, Ariana Gillis began taking singing lessons at the age of six, but she was hardly thrilled. So, her father encouraged her to write her own material and learn to play the guitar. An award-winning songwriter himself, he gave her invaluable insight into the process. However, music's importance didn't really become apparent until her final year of high school, when she came down with double pneumonia. She missed three months of school, and couldn't sing properly for about a year. "Within that span of time, I realized I needed music. I craved it."
With renewed focus, Gillis made an immediate impact on the Niagara music scene, winning Songwriter of the Year at the 2009 Niagara Music Awards, followed by Female Vocalist and Album of the Year in 2010. She networked at music conferences, which led to a quick, two-song performance for Dave Marsh in a stairwell in Memphis, following the release of her second album, Forget Me Not. Marsh then played Gillis on his Sirius XM radio show, which caught the attention of Elton John's songwriting partner.
"I'm staggered by how good she is. There's not much that impresses me these days but after hearing her available tracks, I can honestly say she's the single most exciting artist I've heard in a long time."
Grammy Award-winning Lyricist, Bernie Taupin —
"I've never seen an unknown performer with more power as when I saw Ariana…. I couldn't stop talking about her. She may be the best new emerging artist anywhere."
Writer - Rock Critic - Historian, Dave Marsh —
"I have been a fan of Ariana Gillis since discovering her music on satellite radio in 2009…something rare and unseen - genuine, un-calculated, un-co-opted, art from a soulful gem."
— Grammy Award-winner, Buddy Miller
The above quotes are typical of the excitement Canada's Ariana Gillis was creating from the earliest stages of her career. But after sustaining a serious concussion in 2015, Ariana believed that she would never be able to write and perform music again.
Well, she's proving herself wrong, as after an extended period of recovery she's back with new music currently being recorded with multi- GRAMMY® Award-winning producer, Joel Moss and CFMA Producer of the Year, David Gillis.
Video: www.arianagillis.com
Ariana Gillis-a caring, wise & exceptionally talented young artist.